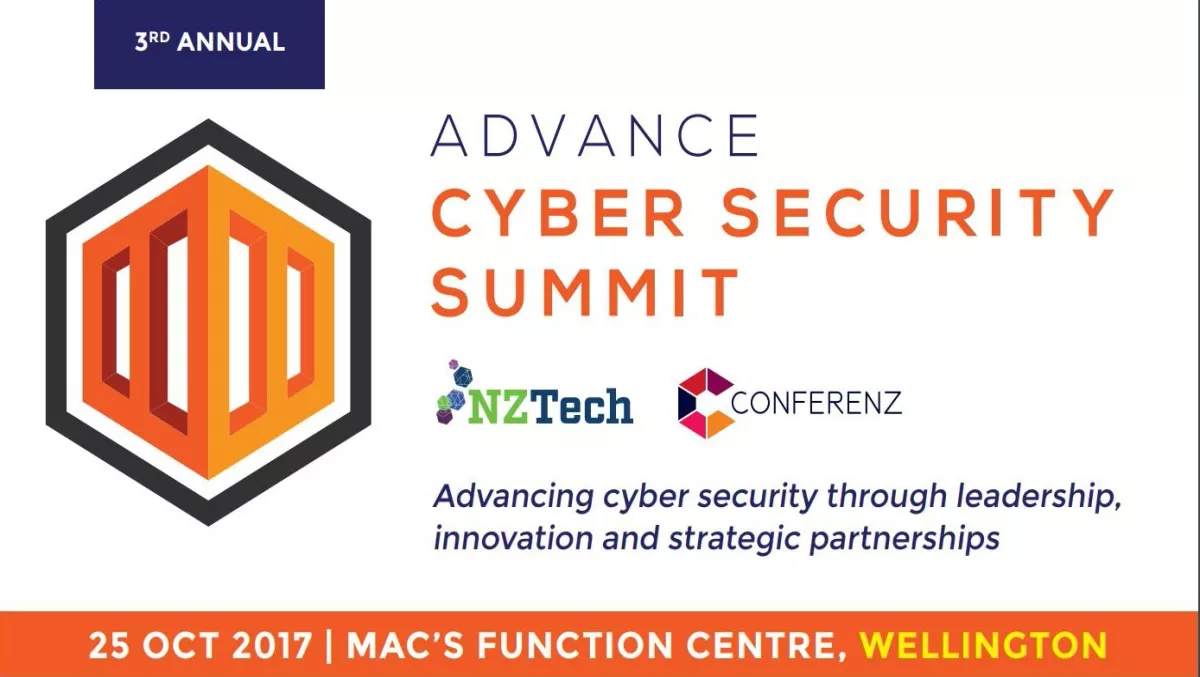 You're invited: The 3rd Annual Advance Cyber Security Summit
FYI, this story is more than a year old
New cyber threats are coming from all directions and many old ones are getting a new lease on life, but the cyber security industry will never stop fighting back.
But what does that mean for New Zealand and our cyber security industry as a whole? On October 25, 2017, that is the focus of the 3rd Annual Advance Cyber Security Summit, which will dive into the progress, developments and challenges that await us in the future.
The Summit features presentations, a workshop that will help firms build the right security framework and industry-renowned speakers including NZTech chief Graeme Muller, Xero's Head of Security Engineering and Architecture Aaron McKeown, and panellists from CERT, MBIE and NCPO.
Why should you attend? The Summit offers much more than speakers and advice. It will also:
Bring you face to face with some of New Zealand's leading cyber security professionals to discuss the current changes, future challenges and evolutionary changes within the cyber security landscape, sharing their insights to strategies to prevent, overcome, and rise above cyber security threats
Provide you with insights into overcoming breaches, assisting in formulating pragmatic solutions through a series of thought provoking case studies and discussions
Provide IT professionals, cyber security specialists, and security consultants in New Zealand with a platform to network and make instrumental industry connections
Communication, discussion and action will move the industry forward: The culture of cyber security is changing to be one of collaboration and breach prevention amongst businesses and individuals. It doesn't stop at grassroots level, but reaches organisational and government level.
"This year is solely focused on cyber security, and the culture around being safe online and coming up with proactive strategies to prevent or even pre-empt breaches. It is about creating a unified approach moving forward and ensuring that unnecessary risks are avoided and people are confident with their tools which they interact with on an everyday basis," comments conference producer Brett Lienbenberg.
Speaker spotlight: Aaron McKeown, Xero's head of security engineering and architecture
Aaron McKeown will be speaking about how to build a solid security culture at speed. That means making information security continuous, aware of changes in the environment and able to evolve.
He says information security should also be automated in a system with minimal intervention – this is the best way to ensure effectiveness.
A large part of cyber security is about openness: That not only involves making your security components open and accessible to developers, but also logging every event and making sure the interesting events are visible.
McKeown will also talk about Xero's major migration to public cloud and what the company discovered about security along the way. Xero's Cloud Security Strategy is built on automation, accelerated security innovation and on-demand security infrastructure.
For customers, a few simple actions could mean the difference between being a victim and being smart.
"We actively encourage our small business customers to use all of the tools available to them to improve their online security. It's really simple to enable multi-factor authentication, for example. Businesses should use it on every system that they possibly can," McKeown adds.
The 3rd Annual Advance Cyber Security Summit will be held on October 25 at Mac's Function Centre in Wellington. Early bird pricing ends on September 22.
Join New Zealand's discussion about the future of cyber security – find out more here.
Related stories
Top stories