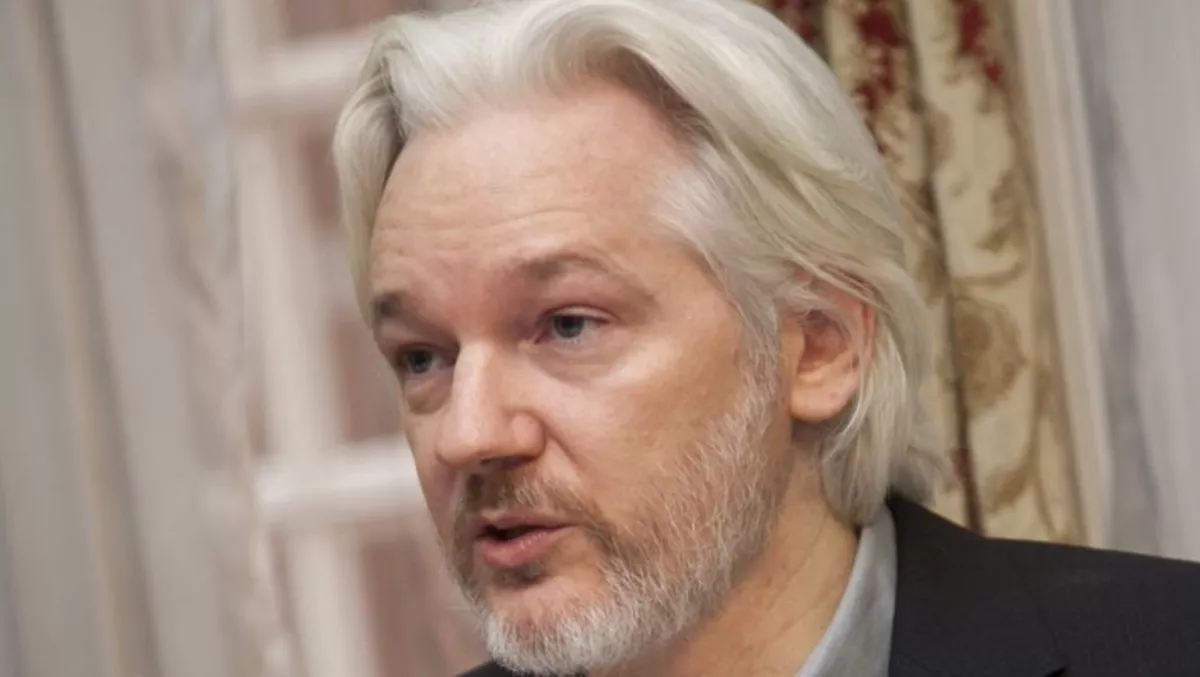 WikiLeaks' Julian Assange arrested in London
FYI, this story is more than a year old
There's little doubt that it's a day of reckoning for WikiLeaks cofounder Julian Assange today, after his seven-year long protection inside London's Ecuador Embassy came to an abrupt end.
Assange, a figurehead for WikiLeaks and for the freedom of information, was behind one of the biggest leaks of classified government information in history, thanks to the work of Chelsea Manning.
The leaked materials contained damning information surrounding military and government conduct related to the Afghanistan War, including a video of US military conducting an airstrike on Iraqi civilians and armed soldiers. Leaks also included US diplomatic cables.
But you can't do any of that and walk away unscathed, as WikiLeaks, Manning and Assange quickly found out. The US government came down on the leakers with tremendous force, with legal battles ongoing to this day.
In 2010, Assange was sought for extradition for charges relating to a sexual assault (the case has now been dropped). In 2012, he was granted asylum by the Ecuadorean Government. He took cover in the government's Embassy located in London and was granted Ecuador citizenship in 2017.
But somehow, today Assange's luck ran out. Reports suggest that Ecuador had finally had enough of Assange.
"I thank Ecuadorian President Lenin Moreno for taking this crucial step," comments Representative Eliot L. Engel, Chairman of the House Committee on Foreign Affairs.
"Former President Rafael Correa's initial decision to grant Mr. Assange safe harbor created this irritant in our relationship with Ecuador. I look forward to working closely with President Moreno to further deepen US-Ecuador relations."
Yesterday Assange appeared in a London court and pleaded not guilty to failing to surrender to the court back in 2012. He now faces extradition to the United States, where he may stand trial for the original document leaks. The BBC reports that Assange may face up to five years in prison if he is convicted.
Assange's lawyer, Jennifer Robinson, appeared on the BBC and argued that the arrest set a 'dangerous precedent' for free speech and how journalists communicate with their sources.
It's a turbulent time not only for the implications of freedom of information, but also for the freedom of journalists who seek to expose the world's unpleasant truths that governments would rather silence.
Below is the full statement from the US Department of Justice.
"Julian P. Assange, 47, the founder of WikiLeaks, was arrested today in the United Kingdom pursuant to the U.S./UK Extradition Treaty, in connection with a federal charge of conspiracy to commit computer intrusion for agreeing to break a password to a classified U.S. government computer."
"The indictment alleges that in March 2010, Assange engaged in a conspiracy with Chelsea Manning, a former intelligence analyst in the U.S. Army, to assist Manning in cracking a password stored on U.S. Department of Defense computers connected to the Secret Internet Protocol Network (SIPRNet), a U.S. government network used for classified documents and communications."
"Manning, who had access to the computers in connection with her duties as an intelligence analyst, was using the computers to download classified records to transmit to WikiLeaks. Cracking the password would have allowed Manning to log on to the computers under a username that did not belong to her. Such a deceptive measure would have made it more difficult for investigators to determine the source of the illegal disclosures."
"During the conspiracy, Manning and Assange engaged in real-time discussions regarding Manning's transmission of classified records to Assange. The discussions also reflect Assange actively encouraging Manning to provide more information. During an exchange, Manning told Assange that "after this upload, that's all I really have got left." To which Assange replied, "curious eyes never run dry in my experience."
"Assange is charged with conspiracy to commit computer intrusion and is presumed innocent unless and until proven guilty beyond a reasonable doubt. If convicted, he faces a maximum penalty of five years in prison. Actual sentences for federal crimes are typically less than the maximum penalties. A federal district court judge will determine any sentence after taking into account the U.S. Sentencing Guidelines and other statutory factors."
*Image: Julian Assange in 2014. Image credit: Cancillería del Ecuador, Flickr under a Creative Commons Attribution-ShareAlike 2.0 Generic (CC BY-SA 2.0) license. Image has been cropped.
Related stories
Top stories