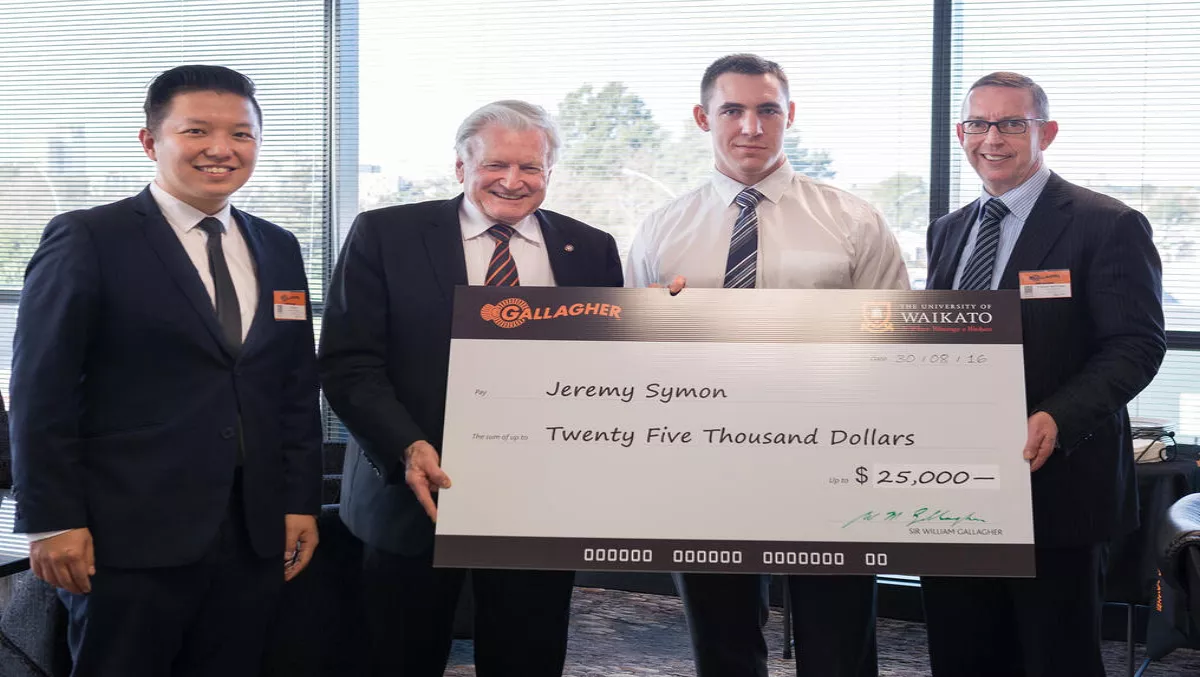 University of Waikato student wins $25,000 cyber security scholarship
FYI, this story is more than a year old
A University of Waikato student has paved the way for success after winning the 2016 Sir William Gallagher Cyber Security Scholarship.
Jeremy Symon, a student studying the Bachelor of Engineering (Hons) in software engineering, secured the $25,000 scholarship and will receive industry experience through a research project at Gallagher, a security solutions company.
"I was already thinking about going on to do a Masters, But now I have this scholarship, it makes it a much easier decision and it will tie in with my work at Gallagher. I'm very grateful to them for this opportunity, and also to my lecturers from the University's Cyber Security programme," Symon explains.
Symon has already spent time working at Gallagher over the summer, and has also worked part time since, working on software development and testing. He hopes to join the team full time once his study is complete.
Sir William Gallagher is an innovator in physical security systems, and has been a longtime supporter of the University of Waikato and the scholarship is an important part of progressing the future of New Zealand cyber security.
Gallagher played instrumental parts in establishing the university's cyber security lab and the STRATUS project.
"As the world moves toward an increasingly cyber environment, Gallagher understands the importance of investing in continuous research and supporting expertise in this developing industry. Congratulations to Jeremy and we look forward to an ongoing partnership," Gallagher says
The University of Waikato's head of cyber security, Dr Ryan Ko,has also praised Symon's success, stating that his team also came third in the recent New Zealand Cyber Security Challenge.
Ko has also been fortunate to see the amount of progress the university's cyber security programmes have achieved.
"Since Waikato's establishment of New Zealand's first Master of Cyber Security programme, several alumni have benefited with very successful jobs and internships in prestigious organisations such as Gallagher, INTERPOL and Deloitte. This scholarship highlights our deep industry relationships and quality of our rigorous scientific research at the Cyber Security Lab," Ko explains.
The Sir William Gallagher Cyber Security Scholarship offers $25,000 for a 180-point degree or $20,000 for a 120-point degree to those studying a Master of Cyber Security (MCS) at the University of Waikato. The scholarship covers tuition fees and a stipend.
Related stories
Top stories