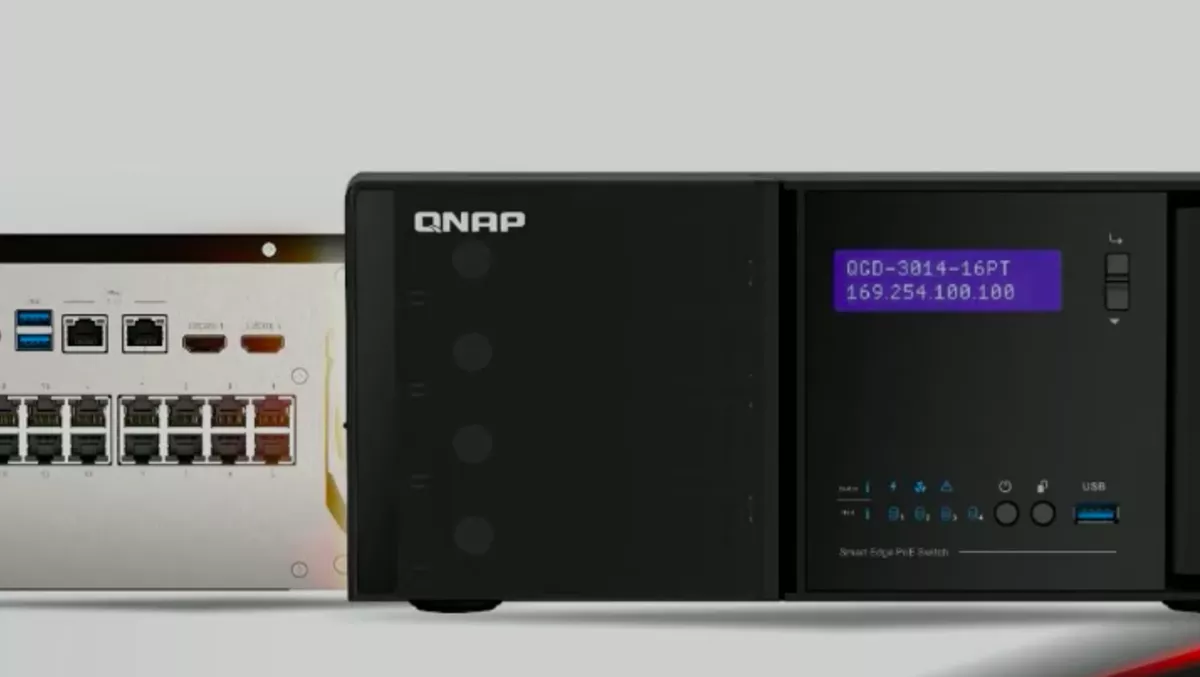 QNAP launches new desktop smart edge PoE switch
FYI, this story is more than a year old
QNAP Systems has released a new desktop smart edge PoE Switch, the QGD-3014-16PT.
It includes sixteen 30-watt Gigabit PoE ports, two 2.5GbE host management ports, Intel Celeron J4125 quad-core 2.0 GHz processor, and four 3.5-inch SATA drive bays.
The switch supports QVR Pro, HBS 3 and QuWAN SD-WAN to integrate surveillance deployment, video storage computing, and multi-site remote management to offer intelligent IP surveillance infrastructure and remote backup solutions.
"Expanding multi-site surveillance networks can be costly and involve large amounts of equipment with low transmission efficiency between multiple remote devices – not to mention the complexities involved in deployment and management," says QNAP product manager Daniel Hsieh.
"The QGD-3014-16PT desktop Smart Edge PoE Switch integrates PoE, surveillance capabilities, and data backup management to simplify these requirements and increase the transmission and backup efficiency of surveillance videos."
The QGD-3014-16PT is compliant with the IEEE 802.3at PoE+ standard and features sixteen 30-watt Gigabit PoE ports, providing the ability to supply up to 140 watts total power to PoE bullet cameras, fisheye cameras, 4K PTZ cameras and Speed Dome cameras with the ONVIF standard – or high-power devices such as IP phones, LED lights, and digital signage.
An additional two Gigabit SFP/RJ45 combo ports and two 2.5GbE host management ports serve as uplink ports to core networks, data centers, or dedicated bandwidth for virtualisation applications.
With its secure management interfaces (QSS switch or QuNetSwitch), administrators can centrally manage powered devices with Layer 2 management features and the Intelligent PoE management functions (including scheduling, power supply prioritization, and power enabling/disabling).
Supporting QVR Pro surveillance applications, HBS 3 remote backup and QuWAN SD-WAN, the QGD-3014-16PT provides users with a cost-optimised all-in-one smart surveillance infrastructure solution.
QVR Pro can set up a dedicated, independent storage space for surveillance data on the QGD-3014-16PT and leverage the advantages of scalable storage (including four SATA drive bays and flexible storage expansion).
Administrators can easily manage cameras, allocate storage space, play recordings, failover, and monitor live camera feeds remotely.
HBS 3 consolidates backup, restoration and synchronisation functions (via RTRR, Rsync, FTP, CIFS/SMB protocol) for administrators to transfer data from one QGD-3014-16PT to another, a QNAP NAS, a remote server, or cloud storage.
The QGD-3014-16PT and other QNAP NAS, QGD switches now support QuWAN (QNAP's SD-WAN solution) which provides full-mesh IPsec VPN topology between multi-site QNAP devices to fulfil enterprise surveillance video, system transmission and backup needs.
The intelligent QGD-3014-16PT combines the functions of a PoE switch, NVR, NAS and router, and provides HDMI 2.0 output for direct playback of live feeds up to 4K (3840x2160) 60Hz.
By consolidating multi-device functionality into a near-silent and stylish form factor, the QGD-3014-16PT satisfies requirements and simplifies the deployment of smart surveillance solutions.
Specifications
Intel Celeron J4125 quad-core processor,
8GB DDR4 RAM,
4 x 3.5 inch SATA 6Gb/s drive bays,
2 x M.2 SATA slots,
16 x RJ45 Gigabit 802.3at 30-watt PoE ports,
2 x Gigabit RJ45/SFP combo ports,
2 x 2.5GbE host management ports,
3 x USB 3.0 ports,
2 x HDMI 2.0
The QGD-3014-16PT desktop Smart Edge PoE Switch is now available.
Related stories
Top stories