Partner content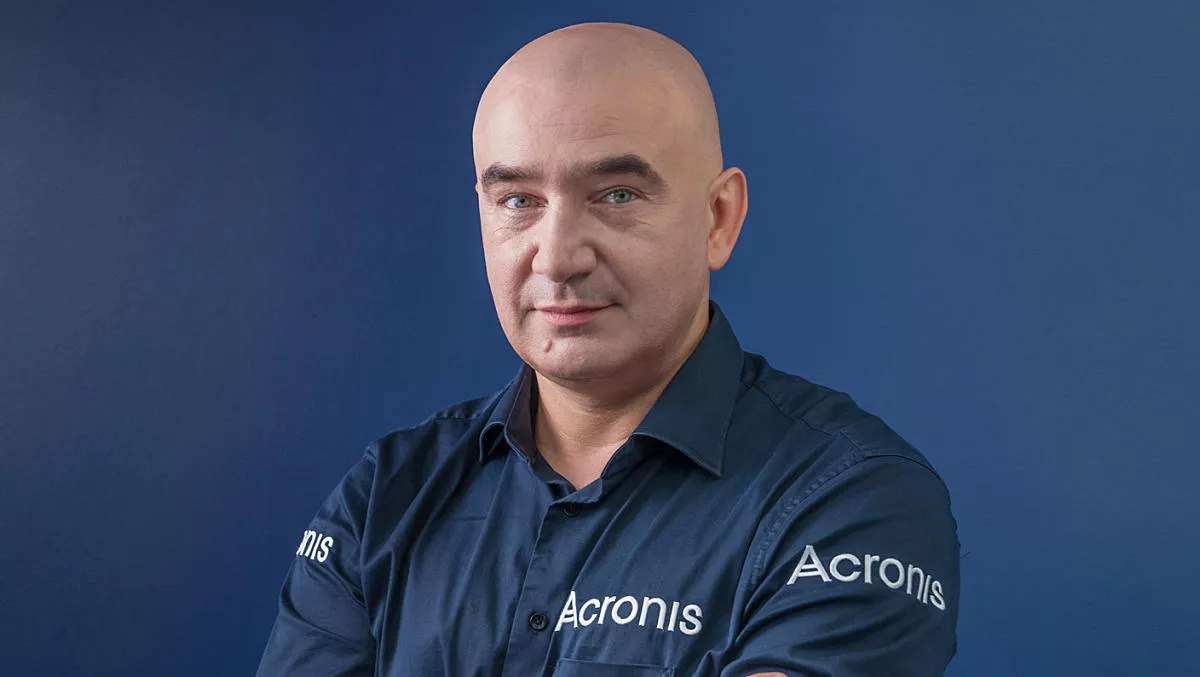 Interview: Acronis CEO talks cybersecurity against a pandemic backdrop
FYI, this story is more than a year old
Almost every business has had a taste of what remote working looks like – from perks to pitfalls, it's a reality during a pandemic and economic uncertainty. Organisations are focused on staying afloat during these times – and cybercriminals have similar goals.
We spoke to Acronis CEO Serguei Beloussov, who discussed some of the most common cyber threats in the current landscape, some of the issues surrounding remote working environments, and Acronis' own efforts in cyber protection.
Threat report – the top five dangers in the current landscape
Acronis' Cyber Protection Operations Centre (CPOC) has been blocking close to 1000 attacks globally per day in the past several weeks, which roughly translates to a 25% growth in attacks over the past three months.
From mid-March, attack patterns showed that events weren't slowing down on weekends, turning common patterns on their head as people work different hours, and from personal computers that are not protected.
Beloussov says some of the main threats include fake news, phishing, cryptomining attacks, ransomware, and threats that take advantage of remote working.
"Fake news is designed to be the most sensational and more interesting than real news. It is almost an extension of a phishing attack done on a mass scale," notes Beloussov.
Phishing attacks have been a mainstay of cybercrime. Efficient phishing attacks always leverage an audience, so unsurprisingly there are now thousands of phishing attacks centred on the topic of COVID-19.
"There are so many related to the virus, the cure, hygiene measures, and even travel. A lot of that is enabled by the fact that people are now communicating remotely so it's quite easy to impersonate someone."
"Consider your avatar for example. It's easy to verify yourself in person but it's difficult to do online. Somebody could steal your avatar and impersonate you in sessions – it's quite easy to do," he says.
As offices remain empty while people work from home, corporate computers left unattended in offices are a breeding ground for cryptomining attacks – a statement supported by Acronis' CPOC statistics. In the last week, Acronis' Cyber Protection Operations Centre (CPOC) spotted a 30% increase in cryptomining attacks.
New exploits are also likely to leverage the remote working trend, which has come to the forefront of the business world and many offices are closed for mandatory lockdowns.
"When you make an account for applications that provide videoconferencing, you expect privacy and security. Up until recently, Zoom had little in the way of privacy or security because it wasn't designed for unprotected situations, and its footprint was much less than it is right now," says Beloussov.
He says it's possible to penetrate these kinds of platforms, particularly when people are using them at home where there is no systems administrator like there would be in a typical office environment.
"IT administrators can't manage devices on a home network because they're not theirs. Cybercriminals know this and will be able to leverage remote working technologies."
So what can businesses do to ensure employees, devices, and confidential information is secure?
Beloussouv says there are three things that businesses can do: use managed service providers (MSPs), ensuring IT infrastructure is always operational, and use cyber protection.
"MSPs and managed security service providers (MSSPs) manage the IT part of a business, which leaves business owners to focus on their core business functions. Hospital owners want to run the hospital, not manage their IT."
"We work with MSP domain partners and we understand that MSPs are equipped to do their work remotely. They will use remote tools, they can deal with a large number of workloads per technicians, and they can deal with a large number of locations."
Why are MSPs and MSSPs so important? Not only do they enable organisations to focus on their core functions, but they can also manage hundreds of disparate business locations.
"Today, every small business with hundreds of employees suddenly has hundreds of locations, because every remote workspace is now a business location."
The second thing to ensuring businesses can protect themselves is to ensure that IT infrastructure remains operational.
"Can you solve the pandemic? Probably not. Can you resolve the global economic problem? Probably not. Can you make sure that your business remains functional? Yes, and you can do much more to ensure it."
He says organisations should focus on what can be done right now, followed by what needs to be done in the longer term.
"Doing what needs to be done might look heroic, but it could be impossible. Doing what can be done is smart because you are making sure that whatever could break, won't. By doing that first, you can be ready to do what needs to be done when you have enough time and money."
To ensure that there is a future ahead, organisations should not let cyber protection fall by the wayside, even if they are focused on ensuring the business has a future.
"Backup is dead - in the modern world you need to comply with all the five vectors of Cyber Protection: delivering safety, accessibility, privacy, authenticity, and security. We call this SAPAS," Beloussov says.
Acronis launches Acronis Cyber Protect
Acronis understands that many organisations will be in survival mode, so it is committed to securing every organisation's environment – and that includes making sure its customers remain protected from threats such as phishing, ransomware, and cryptomining.
Its flagship product is called Acronis Cyber Protect and includes multiple security components all in one product, one user interface, and with one policy.
Security components include vulnerability assessment, patch management, configuration management, malware prevention, backup and disaster recovery, privacy management, and much more.
Designed for businesses with a limited budget and with limited time to dedicate to security, Acronis ensures protection that does not intrude on teams' missions to keep their businesses operational – particularly during a pandemic.
Furthermore, an AV-Test independent lab report rated Acronis Cyber Protect scored a 100% detection rate over 6,932 malicious PE files. Furthermore, a false-positive test that included 180,000 files returned zero false positives.
These are the kinds of solutions that end-user businesses need, and Acronis is committed to working with partners to provide them. The company currently works with more than 7000 service provider partners, with an ambitious goal of working with 70,000 partners in five years.
Beloussov says that cyber protection is a weapon that organisations and their employees can use right now to ensure that they are in a better position in the months and years to come.
Acronis Cyber Protect is the company's contribution to ensuring customers can achieve that business success – and now more than ever, organisations need to stay protected.
Managed service providers can request early access to Acronis Cyber Protect now - click here for more information.
Related stories
Top stories